Instagram rolls out new features to combat bullying and fake news – Here's Why!
Facebook Inc.-owned Instagram is rolling out new features in an attempt to combat bullying and fake news.
The photo-sharing app is tackling alleged online bullying using artificial intelligence to warn users before they post "potentially offensive" captions. An extension on a feature that filtered comments earlier this year, the new feature prompts users with a warning that their caption looks similar to others that have been previously reported based on the words used in the caption.
"Today, when someone writes a caption for a feed post and our AI detects the caption as potentially offensive, they will receive a prompt informing them that their caption is similar to those reported for bullying," the Instagram team wrote on Facebook. "They will have the opportunity to edit their caption before it's posted."
The example given is a post that starts with a user tagging another user followed by the words "you're stupid."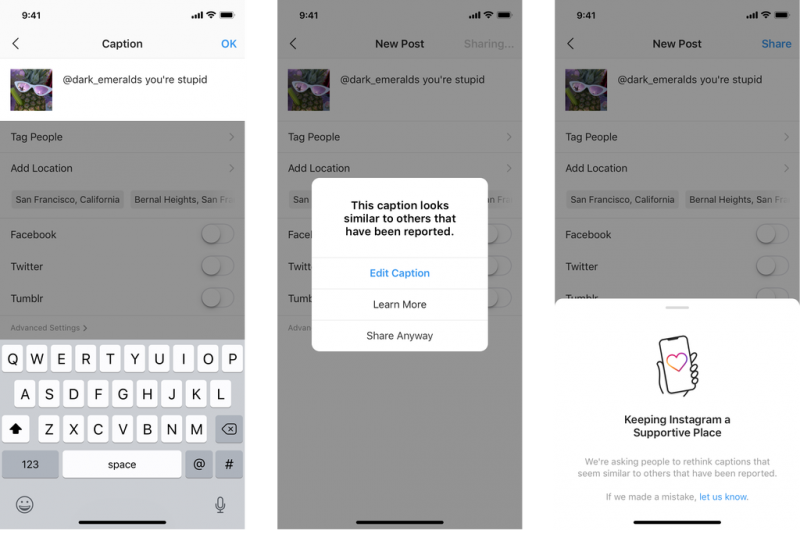 Not content in simply moderating captions, Instagram is also following parent company Facebook in rolling out a fact-checking initiative. Said to be designed to combat content that has been rated as false or partly false by a third-party fact-checker, the service both labels what is deemed to be false and reduces the distribution of flagged content from the Instagram Explore and hashtag pages.
"We use image-matching technology to find further instances of this content and apply the label, helping reduce the spread of misinformation," Instagram wrote in a blog post. "In addition, if something is rated false or partly false on Facebook, starting today we'll automatically label identical content if it is posted on Instagram (and vice versa)."
The move to crack down on both bullying and so-called fake news on Instagram — thrives on "influencers" manipulating reality in posed and photoshopped photos to begin with — comes after the app started to remove the "like" feature for users worldwide in November.
Bullying and peer pressure have been identified as serious issues among younger users of Instagram in the past. According to Standard Media, various studies have shown that Instagram was the worst social media platform for young people's mental health and that 40% of teen users felt pressure to share digital content that had garnered a lot of likes or comments. A study in 2017 identified Instagram as the leading social network for bullying, with 7% of users saying they had been bullied in what was described as "a culture of antagonism."
source: siliconangle.com